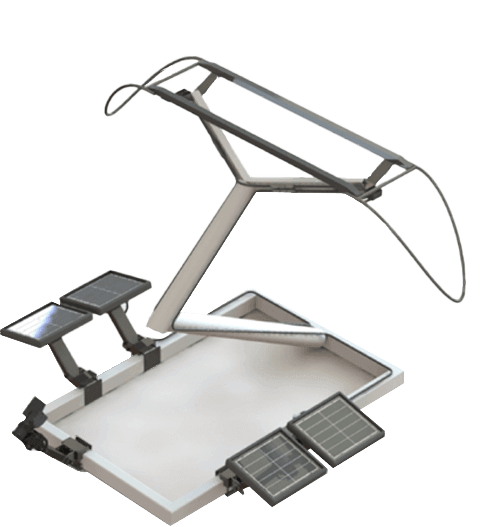 Market Leaders
Creating great outcomes
Telemattica are the market leaders in overhead wiring condition monitoring because we work with our clients to help them visualise their networks, enabling them to optimise their resources and extract the most value from their assets.
Telemattica acquires and processes network data for our clients, providing precise, targeted, and actionable outcomes. We work with our clients, removing the complexity of condition monitoring to allow for safe, efficient, and improved operations. 
End to End Solutions
Automated maintenance via data collection, analysis and integration into existing systems
Sensor Nodes
Hardware capable of collecting raw data on an asset that needs to be monitored.
Custom Applications and Integrations
Ensuring that actionable information is delivered to the end user in a way that fits your organisation's workflows.
Data Management & Analysis
Software and servers required to collect, store, analyse and present the data from sensor nodes.
Rather than rely on inefficient and incomplete manual inspections of the overhead wiring network, rail operators now have the ability to use technology for precise and complete inspections in real time.
Turn Key Services
Comprehensive condition monitoring services that are designed to minimise project delivery requirements, ongoing overheads and risk for the operator.
MANAGED DATA
Our services include management of data collected by the sensor nodes through to data consumption by end users. This ensures that your data is highly reliable, secure and easily accessible without the need to set-up and maintain internal IT infrastructure.
HARDWARE & SUPPORT
Each installation includes a 12-month hardware warranty and and through-life technical support. Telemattica are committed to providing your network the support required to deliver reliable, accurate and effective condition monitoring.
FLEXIBLE PROCUREMENT OPTIONS
We provide options that allow our services to be procured as a one-off capital expense or an ongoing operational expense depending on the preferred funding model for the project.
IOT Philosophy
Automated maintenance via data collection, analysis and integration into exisiting systems
A data platform with flexibility and strength
The Telemattica Data Platform acts as the backbone for all condition monitoring services offered by Telemattica. It is a general-purpose data platform designed specifically for aggregating, storing, analysing and presenting data from IoT devices.